Thank you for contributing to our forum!
Please keep in mind:
1. To only comment on the topic where the discussion is about. Do you have a new question or topic? Please start a new discussion.
2. Be kind to other users!
Share a 2D version of your project
When you have created an interesting project in the Tygron Platform and would like to share this project with others,
you can easily create a link to it, allowing anyone with the link to open the project in 2D in a browser.
To do so, please follow the steps below:
Click in the tab Tools on Web Interface when editing a project
Click on Show 2D Map
The 2D version of your project will open in your default browser. In this 2D project it is possible to see indicators, panels and overlays, but it is not possible to do actions, upgrades or measures.
Copy the link from the address bar and send this link to the people you want to show the project to.
Go back to your project and click on the File button.
Check the Keep Editor Session Alive box. This will keep your project open on the server and means that the link still shows the 2D version, even after you closed the project. To edit the project again, it can be found in the Join section of the main menu.
For more information about the 2D map, please see the wiki and our tutorial.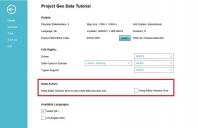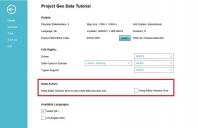 Tagged: